While a focus on digital banking and payments news was well underway long before COVID-19, the pandemic has undoubtedly shifted attention toward these topics into overdrive. And consumers are indicating strong signals that their digital demands aren't lessening anytime soon: A full 42 percent of those surveyed said they'd reduce their visits to bank branches post-health crisis.
The takeaway? "The last four months have amplified customers' expectations for digital banking experiences that mimic those they receive every day from consumer brands like Amazon, Uber, and Apple," says Mary Anne Keegan, CMO of BillGO. "Banks who think they still have plenty of time to develop innovative digital strategies — like a modern bill pay platform — are sorely mistaken. They need to swiftly catch up or risk losing customers to those that have done their homework."
The good news is that there's a plethora of information about the brave new world of payments. The bad news? With a never-ending stream of online content but fewer opportunities to connect in-person with subject matter experts (SMEs), navigating these rapidly changing insights and opinions is more challenging than ever.
"For many people, digital social networks, such as LinkedIn and Twitter, can help fill this gap," says Jay Palter, a digital media expert keyed into the finance and technology arenas. "If you know who to follow online, you can benefit from SMEs and influencers filtering valuable content, sharing insights relevant to your business, and participating in relevant online conversations."
To give you a head start, we've compiled a list of leading social media influencers in the payments and digital banking space. Feel like there's someone we've missed? Drop us a note on our LinkedIn, Twitter, or Facebook feeds.
‍
‍
Karen Webster
‍
Her creds: CEO of both PYMNTS.com and Market Platform Dynamics
Sweet spots: Digital payments, digital banking, and customer experience
Why she's hot: As a recognized industry thought leader who is ranked among the top 10 money and finance writers on LinkedIn and as one of the top 50 retail industry influencers by Vend University, Webster has authored numerous articles and whitepapers on payments, mobile, social strategy, product design, pricing/incentives, customer acquisition, retention, and loyalty. The founder of PYMNTS.com is widely known as a foremost SME on emerging payments, and in this capacity has advised CEOs and boards of multinational brands. Want to know what's next in payments? Then keep tabs on Webster's social feeds.
Find her on:
Jim Marous
His creds: Co-Publisher of The Financial Brand, Owner/Host of the Banking Transformed Podcast, Owner and Publisher of the Digital Banking Report
Sweet spots: Fintech, digital banking, payments, financial marketing, and customer experience
Why he's hot: Marous is consistently ranked as one of the most influential individuals in banking and is a highly respected keynote speaker. His insights on the transformation of the banking industry can be found on The Financial Brand, Forbes, and his Banking Transformed podcast. Marous is well known for his commentary on disruption in the banking industry and has been featured in and on CNBC, CNN, Forbes, The Wall Street Journal, New York Times, The Financial Times, The Economist, and The American Banker. Follow him for the latest observations on banking and payment trends.
Find him on:
‍
Ron Shevlin
His creds: Managing Director of Research at Cornerstone Advisors and Senior Contributor at Forbes, where he authors The Fintech Snark Tank
Sweet spots: Fintech, payments, banking, and digital banking
Why he's hot: Shevlin is well known for telling it like it is in his weekly Fintech Snark Tank articles, and is also the author of Smarter Bank, reviewed as a "must-read book for all banking and credit union executives interested in the future of banking." A frequent keynote speaker at banking and fintech industry events, you'll find Shevlin's name ranked among the top fintech influencers on a variety of global lists. If you want to keep your pulse on the digital transformation happening (or not happening) in the banking industry and the future of financial services, following Shevlin's a must.
Find him on:
‍
David Albertazzi
His creds: Research Director at Aite Group
Sweet spots: Payments and bill presentment (EBPP), branch channel/ATM, core systems, mobile banking, online banking, and personal financial management
Why he's hot: Albertazzi regularly shares his analysis of the payments space in Aite's comprehensive industry reports and via his social media channels. In his current role, he advises global financial service firms on eBusiness, channel strategy, digital strategy, and payments, and can be found quoted in both mainstream and industry publications such as Bloomberg, The New York Times, USA Today, CNN Money, and American Banker. For data-packed observations on the future of banking and payments, Albertazzi is a great influencer to follow.
Find him on:
Kate Fitzgerald
Her creds: Senior Editor at PaymentsSource.com
Sweet spots: Digital payments, digital banking, and customer experience
Why she's hot: As a leading payments journalist for PaymentsSource.com, Fitzgerald regularly publishes insightful content about digital banking, mobile banking, payment innovations, and the future of the industry. Her work tracks the shift to digital transactions for consumers and corporations across the frontier of new payments technology as channels converge. If you want to learn more about consumer shifts impacting payments — as well as the most recent payment innovations — checking out Fitzgerald's posts always pays off.
Find her on:
‍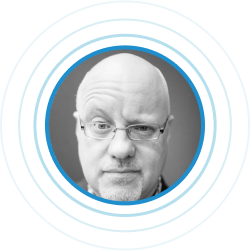 Brett King
His creds: Founder and Executive Chairman of Moven, Founder of Provoke Management, Host of Breaking Banks Radio, CEO of User Strategy
Sweet spots: Fintech, digital banking, digital payments, and the future of financial services
Why he's hot: King is a renowned futurist and speaker who covers business, technology, and society. Named "King of the Disruptors" by Banking Exchange magazine, he's also the author of the best-selling Banking 4.0 and host of other books on digital banking and disruption. You can catch King as the host of the leading fintech radio show Breaking Banks, or as a featured speaker at industry events (he's presented in more than 50 countries). Tag along on King's social media feeds to stay on top of the future of global banking.
Find him on:
Bradley Leimer
His creds: Co-Founder of Unconventional Ventures, Podcast Host of Rhetoriq — Innovation with Purpose, and Startup Advisor at Gauss Ventures
Sweet spots: Fintech, digital banking, payments, and financial marketing
Why he's hot: Leimer's personal mantra — help make banking better — has led to his spot as one of the top influencers in the fintech space. He can often be found online discussing topics including the transformation of the banking sector, payments, and fintech. As host of the popular podcast Rhetoriq, he covers all things related to purposeful innovation and regularly evangelizes engagement banking strategies. Keep tabs on Leimer and watch him "play in the intersection between technology and human behavior."
Find him on:
Patricia Hines
Her creds: Head of Corporate Banking Research at Celent
Sweet spots: Banking, fintech, payments, supply chain finance, and digital assets
Why she's hot: Hines has more than 20 years of financial services expertise under her belt, specializing in research involving corporate banking and global transaction services, and with an emphasis on treasury and cash management, corporate banking delivery channels, commercial and small business lending, and emerging technologies such as APIs, blockchain, and artificial intelligence. She's a popular speaker on trends and innovations in the banking sector and has been a featured thought leader on webinars about open banking API portals. Stay tuned to Hines to better navigate the intersections of opening banking, technology, and digital assets.
Find her on:
Theodora (Theo) Lau
Her creds: Founder of Unconventional Ventures
Sweet spots: Fintech, innovation, artificial technology, and digital transformation
Why she's hot: Lau is an influencer known for her focus on creating and uncovering innovations that are transforming financial services into a more inclusive industry. She is the Founder of Unconventional Ventures, a boutique consulting firm that's seeking to drive innovations to improve financial wellness. Lau is recognized for her writing on innovation, digital transformation, and diversity, as well as for her empowering discussions on the Rhetoriq podcast, where she is one of the hosts. Interested in the transformation that must continue to happen in financial services and digital payments to make it a more inclusive and innovative industry? Follow Lau closely.
Find her on:
Todd Ablowitz
His creds: Co-CEO and Co-Founder of Infinicept, Founder of PaymentFacilitator.com, Founder of Double Diamond Group, LLC
Sweet spots: Mobile payments, payment technology, and emerging payment trends
Why he's hot: Ablowitz is frequently looked to by investors, analysts, and industry watchers for direction on the top trends and insights in payments and payment innovations. He's a recognized industry leader with 15 years of experience advising the acquiring and payments industry's top brands. Members of the industry media depend on Ablowitz for his professional advice and insights, and he's often quoted in both consumer and industry trade publications. Follow him on social media for access to free, actionable content across a variety of topics.
Find him on:
Chris Skinner
His creds: Non-Executive Director of financial consultancy firm 11:FS, CEO of Finanser Ltd., Chairman of Nordic Finance Innovation
Sweet spots: Fintech, digital banking, and digital payments
Why he's hot: Skinner is well known for his daily blog at thefinanser.com, where he shares insights about digital banking, fintech, and the future of the banking industry. He's also the author of numerous best-selling books on digital transformation in financial services (including Doing Digital, Digital Bank, ValueWeb and Digital Human) and the host of the Fintech Insider podcast by 11:FS. If you're hungry to follow the disruption happening in banking and fintech right now, Skinner's one to watch.
Find him on:
Alex Jiménez
His creds: Chief Strategy Officer at Extractable
Sweet spots: Digital transformation, digital banking, and fintech
Why he's hot: Jiménez actively curates and shares content on the rise of digital banking, digital transformation, leadership, and innovation. He's appeared on several industry influencer lists in the areas of fintech, regtech, payments, insurtech, innovation and digital marketing. Jiménez is a well-known industry speaker who has presented on panels discussing digital banking, payments, and the future of financial services. If you're looking for tips on how to define your digital transformation strategy, stay on alert for his posts.
Find him on:
Chris Gledhill
His creds: Independent FinTech Advisor, Futurist, Writer, and Speaker
Sweet spots: Fintech, banking, digital payments, and the future of financial services
Why he's hot: Gledhill was the co-founder and CEO of the UK challenger bank Secco, and is widely regarded as one of the world's leading fintech authorities. He's a regular blogger on the transformation happening in the space, and is "on a crusade to reinvent the finance industry and takes pleasure in questioning the centuries old banking principles." If you're looking for the latest on fintech's global expansion, keep tabs on Gledhill's channels.
Find him on:
Urs Bolt
His creds: Digital Product Manager at ti&m
Sweet spots: Wealth management, fintech, wealthtech, digital banking, and digital assets
Why he's hot: Bolt is a fintech and wealthtech influencer who actively shares content related to the evolution of the banking and wealth management industries. He's an active speaker, blogger, and author whose work is currently focused on supporting technology companies and financial services providers to review their business strategies, develop solutions and markets, and build business partnerships. Follow Bolt for the latest on wealth management, wealthtech, and digital assets.
Find him on:
Neira Jones
Her creds: Independent Advisor and International Speaker; Partner, Global Cyber Alliance
Sweet spots: Payments, digital innovation, fintech, cyber risk, and information security
Why she's hot: With over 20 years of experience in financial services and technology, Jones is highly skilled at demystifying the hype surrounding financial technology and innovation. You'll find her on many top influencer lists, including SC Magazine's list of the UK's 50 Most Influential Women in Cyber-Security 2019, Planet Compliance's Top 50 RegTech Influencers, and Refinitiv's Top 100 Influencers in Financial Services 2019. Jones is a must-read if you're looking for an expert to demystify the hype around payments, cybercrime, information security, and digital innovation.
Find her on: