The Battle for Bill Pay, BillGO's latest eBook, is a must-read for financial services executives seeking insights into what consumers want when managing their bills and subscriptions and steps the financial services can take to meet the needs of their customers.
The new eBook draws from nearly two years worth of data BillGO collected in exclusive studies commissioned to develop a comprehensive picture of consumer bill pay patterns and preferences.
In 2020 and 2021, BillGO commissioned two separate surveys where consumers were asked to identify — among other things — their bill pay patterns, how confident they are in keeping up with their financial obligations and the tools and resources their financial institutions (FIs) can provide to help them to better manage their bills and budgets.
The end result — The Battle for Bill Pay — compiles many of these findings into one single resource loaded with stats and in-depth research financial industry executives can leverage as they plan for 2022.
Specifically, the 10-page eBook roots out five key findings:
Late payment anxiety lingers — Data confirms about half of consumers get anxious "just thinking about… bills."
Consumers need incentives to switch — Want to win back former customers? Offering modern bill pay features can help.
Microloans can help cash-strapped consumers — Almost 20 percent of respondents said low-interest microloans would appeal to them.
Uptick in subscriptions add to security concerns — Subscription services increased by 85 percent during the pandemic, while opening up new risk concerns.
Consumers continue to demand modern bill pay — Frustrated consumers are still seeking digital resources to help them manage their bills.
Fintechs and FIs Making Headway
That last finding — consumers are still looking for tools to better manage and pay bills — hasn't escaped the notice of FI execs seeking greater customer engagement. In 2020, BillGO's research revealed more than three-quarters of consumers paid their online bills directly to biller websites. Fast forward to Q3, 2021 and the number of consumers paying billers directly dropped to about 66 percent.
For Dan Holt, CEO and Co-founder of BillGO, this trend confirms fintechs like BillGO are making headway in helping the industry convert to modern bill pay.
"Two years ago, our research determined 76 percent of consumers paid their online bills directly to billers. As of 2021, there has been a ten-point drop suggesting FIs have read the writing on the wall and are working with companies like BillGO to update their bill pay platforms and fast-track bill-pay enhancements," says Holt.
Equally important, The Battle for Bill Pay confirms many consumers continue to live from paycheck to paycheck. This is one reason they are looking for tools and technology that enables them to better manage their bills.
"Every study we've done in the last six years has landed in a similar place," says Holt. "Consumers want three things when they pay their bills: choice, consolidation and control. This is one reason so many people continue to pay their billers directly: it allows them to make same-day payments and get same-day confirmations. Unfortunately for banks, many legacy bill pay platforms still cannot do this. And, for six years, we've been telling banking executives, 'if you don't deliver those three things, your customers will take their bill pay business to someone who does.'"

In other words, as the title of BillGO's eBook suggests, there is a battle for bill pay going on as FIs and fintechs fight to deliver on consumer expectations for better bill- management tools.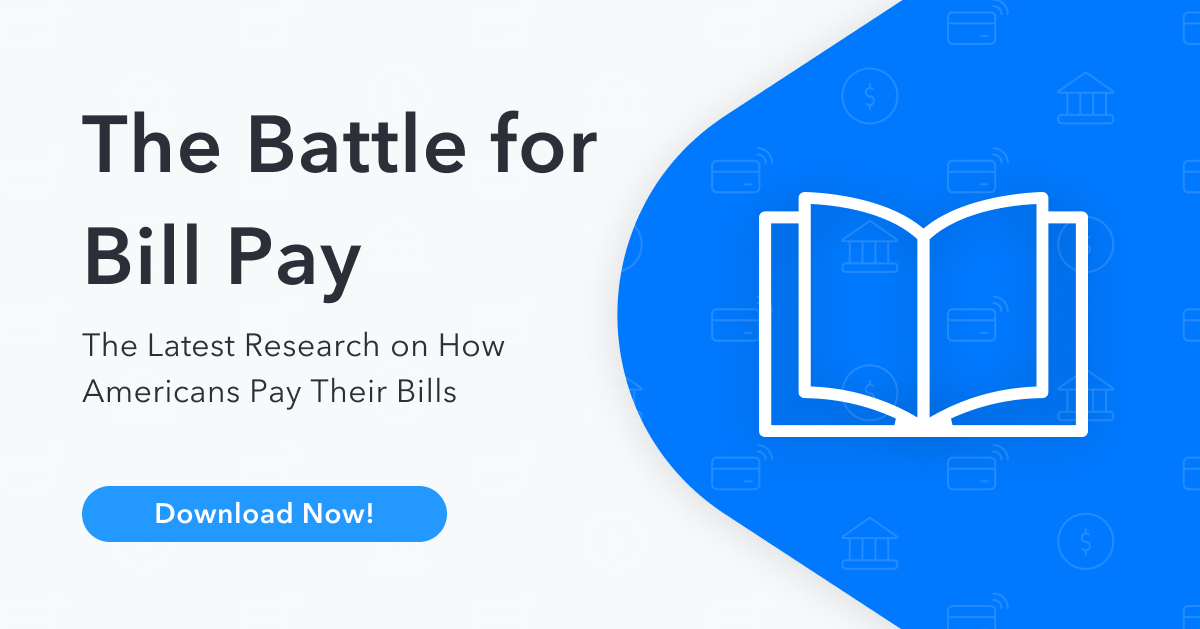 ‍