Forbes reports that more than 50 percent of all U.S. startups fail after their fifth year.
So, the fact that BillGO is blowing out six candles this year is no small feat. It's made even more noteworthy by the fact that the company experienced its biggest growth surge in the last 12 months (played out against the backdrop of a global pandemic no less).
None are more humbled by this success than the company's co-founders - Dan Holt, Kelly Seidl, and Scott Miller - and the nearly 250 employees who have advanced BillGO's mission to give consumers a faster, easier and more secure way to manage and pay their bills.
Starting with the mission to deliver a better way to pay bills, BillGO has spent the last six years transforming the dreaded necessity of managing and paying bills into an opportunity for financial well-being. And, in doing so, the company has collaborated with some of today's leading financial institutions (FIs) and fintechs to deliver bill pay related capabilities that meet consumer expectations and demands.
Today, BillGO's real-time bill management and payments platform is used by more than 32 million consumers as well as thousands of FIs, fintechs and billers.
Promises Made, Promises Kept
When Holt and Company started BillGO in 2015, they had a singular vision in mind: They wanted to help people improve their financial lives by providing them with a better way to pay and manage their bills. This was was was a revolutionary concept for those financial institutions that still clung to bill payment methodologies that dated back to the late 1990s. The reason BillGO succeeded was - as Dan Holt explained when BillGO celebrated it's fifth birthday - many of the incumbents who came before BillGO didn't have a consumer-first outlook; rather, their focus was on their cash flow, shareholder value and earnings per share.
BillGO was—and is—different.
"We … cared about the consumer and became absolutely relentless about that," Holt added. "We were — and remain — obsessed with the end-user of our product, and what they really want and need. We heard consumers telling us time and time again that they wanted access to all their bill pay data in one spot. They wanted to pay the way they wanted, when they wanted. They craved that control and flexibility, but also needed an overlying platform that helped them make smarter financial decisions."
Last November financial services giant Visa invited BillGO to participate in its exclusive Fintech Fast Track program enabling BillGO to fully utilize Visa's "programs and network to digitize financial services and improve the lives of the consumers and businesses." Around that same time, BillGO entered a partnership with a top-50 bank to help provide the bank's customers with a faster, more secure process to manage and pay bills. More recently, BillGO joined The Financial Data and Technology Association (FDATA) of North America, a move that was motivated by BillGO's desire to advance the open banking movement to benefit consumers and small business owners.
"Fintechs like BillGO are well-positioned to help consumers and entrepreneurs improve their financial well-being," said Steven Boms, Executive Director of FDATA North America. "And, because BillGO is already working with key players in the financial services industry, they will be valuable allies in our efforts."
"Culture Eats Strategy for Breakfast"
These are just a few of the more recent milestones in the BillGO story arc that helped move it from scrappy startup to industry leader, but ask anyone in the halls of BillGO's three offices (located in Colorado, Washington state and Ohio) and they will tell you the single most important driver of growth has been its relentless commitment to its company culture.
Six years ago, BillGO's founders knew that culture formed the bedrock of a successful company. They held this belief not just because organizations with strong cultures have been shown to experience significant increases in revenue growth, productivity and employee satisfaction ratings, but because — as management-guru Peter Drucker famously pointed out — culture eats strategy for breakfast.
"You can come up with the best strategy and get the smartest people together in a room, and maybe that team will initially win because of that strategy," said Holt, "but strategies change over time. So, if the organization doesn't have an amazing culture and team members that work well together, it won't succeed in the long run."
By all accounts, BillGO has succeeded in its effort to establish the "amazing culture" Holt and company had in mind when they started the company six years ago.
This year alone, BillGO has been recognized by several of today's leading publications as a top workplace. Forbes named BillGO one of America's Best Startup Employers for 2021, Fortune included BillGO in its list of certified Best Places to Work in Financial Services & Insurance and Inc. included BillGO on its list of Best Workplaces in 2021.
"Our executive team could not be prouder," said Holt. "Any company would love to be recognized on any one of these lists, but the fact that BillGO was recognized by multiple publications is a credit to the entire BillGO team, because—at the end of the day—every employee has a hand in cultivating a winning company culture and we've accomplished that."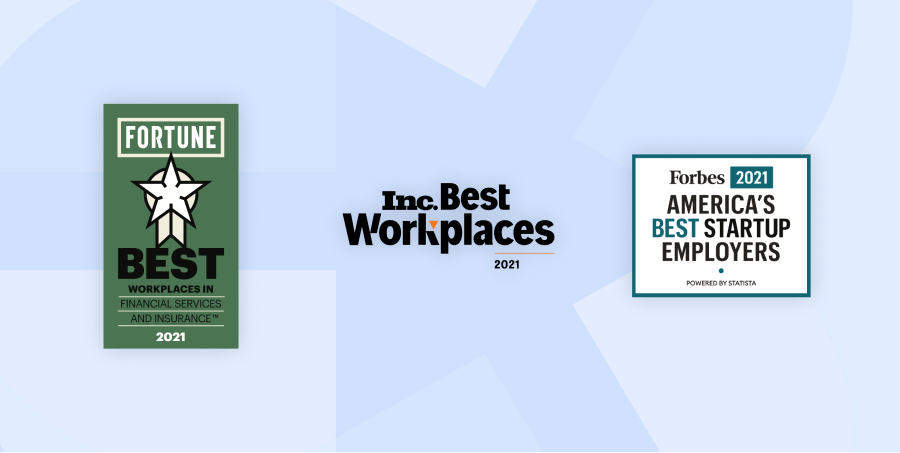 Want to be Part of the Next Chapter in BillGO's Journey?
When it comes to disrupting and revolutionizing the current bill pay landscape, BillGO's strategy is simple: hire the best talent. "At the end of the day, we want to change how the industry views bill pay," said Seidl. "In order to do that, we have to be an industry leader. So, we're hiring the smartest people in the marketplace."
If you want to be a part of the bill pay revolution and join one of the best places to work in fintech, BillGO wants to speak with you. We are on a mission to bring better, faster bill pay to everyone, and we want you to join us.
Check out our careers page to explore current openings, follow us on LinkedIn for hiring updates and announcements and view us on Glassdoor to read what other employees say about working at BillGO.