Today, BillGO launched BillGO Exchange, the latest service offered to billers as part of the growing BillGO platform. BillGO Exchange enables billers, large and small, to leverage our seamless payment process, extensive biller network and advanced, user-friendly interface to revolutionize how they serve their customers.
What problem does BillGO Exchange solve?
For years, billers, vendors, suppliers and financial institutions (FIs) have been bogged down by inefficient, outmoded and highly-manual payment systems that slow payments, often forcing billers to wait up to five business days or more to get paid. This has been especially frustrating for smaller billers who are often left out of larger, mainstream electronic bill pay networks, which can further slow payments.
Who benefits from BillGO Exchange?
Although billers of all sizes can benefit from BillGO Exchange, for small and mid-size billers, BillGO Exchange is a game-changer.
These more modest-sized businesses will have everything needed right at their fingertips to manage outstanding payments. Most importantly, BillGO Exchange reduces waiting times to get paid from days to minutes.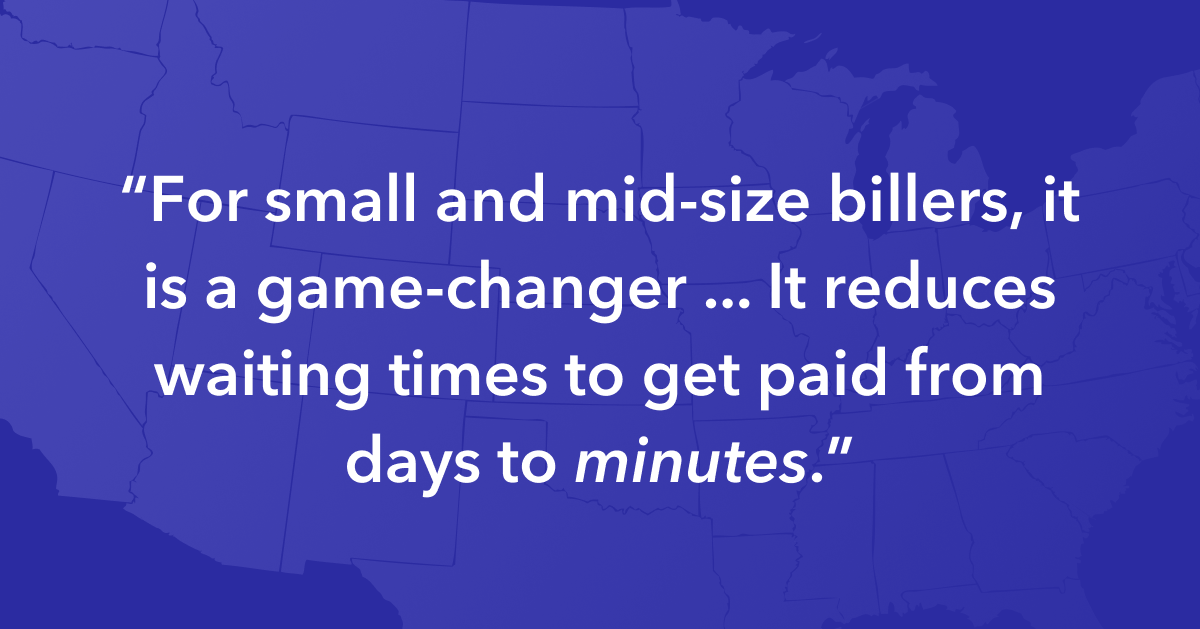 What exactly does BillGO Exchange do?
BillGO Exchange enables all billers to get paid faster by reducing many of the day-to-day hassles they must negotiate.
The hassles are reduced because BillGO Exchange streamlines the entire payment process — speeding payments, reducing risk, facilitating easier reconciliation, eliminating trips to the bank — all via one easy-to-use portal.
With BillGO Exchange, there is no guesswork; no paperwork. Just payments.
How does BillGO Exchange reduce hassles?
By delivering ...
Ease of use. Modern CX enables billers' customers to pay quickly and securely
Reduced Risk. Fraud and risk issues associated with paper checks are minimized
Simple Reconciliation. Payments are easily tracked via a customized self-service portal
Speed of Payment. Paper checks are transformed into reliable digital payments and payments settle, on average, in minutes rather than days.
Disruption-free experience. Billers can continue to leverage existing payment processors using their AR workflow
Easy onboarding. Quick sign up and immediate payments
Why does this matter to the average biller or vendor?
BillGO's research shows more than half of billers still make regular trips to the bank to manage paper checks. With BillGO Exchange, that hassle is eliminated because paper checks can be eliminated.
Nearly half of our current users cite "the ability to get paid faster" as the number one reason they use BillGO Exchange and nearly 29 percent say they use BillGO Exchange to "reduce the manual processing involved with checks."

What other features are planned for BillGO Exchange?
As BillGO Exchange evolves and scales, it will deliver additional services, tools and touchless integrations billers can rely on to manage their full spectrum of payment needs.
Can BillGO Exchange help FIs and fintechs as well?
Yes! FIs and fintechs benefit from cross-industry efficiencies that come from the ever-growing, highly-functioning BillGO network, which speeds payments, minimizes paperwork and reduces expenses. They can also benefit from the increased customer satisfaction from the consumers and billers they serve.
Want to know more?
Want to know more about BillGO Exchange? Check out our FAQ, which dives even deeper into the functionality behind BillGO Exchange and the benefits of joining the BillGO Exchange network.