Americans pay a lot of bills. According to a comprehensive national study entitled How Americans Pay Their Bills, jointly released by BillGO and Aite, Americans pay over 15 billion bills each year totaling almost $5 trillion in value. Two thirds of all bills are paid with one-time payments, while the other third are paid on a recurring basis. And online payments are the most common, accounting for 58% of one-time and 68% of recurring bills.
This is good news for billers and credit card companies because biller websites attract the lion's share of online payments, accounting for 76% of online payments. That's a 14% increase since 2010 – which is almost identical to the decrease over the same time period in online bill payments being made at digital banking websites. This news isn't so good for consumers or their banks.
Consumers are now forced to struggle with a decentralized bill pay system that increasingly challenges them to keep track of their bills and expenses across multiple biller sites and payment cards rather than in one place – their bank's website. This negatively impacts consumers' ability to achieve financial wellness, and it also reduces banks' capacity to satisfy their customers' needs and strengthen customer relationships.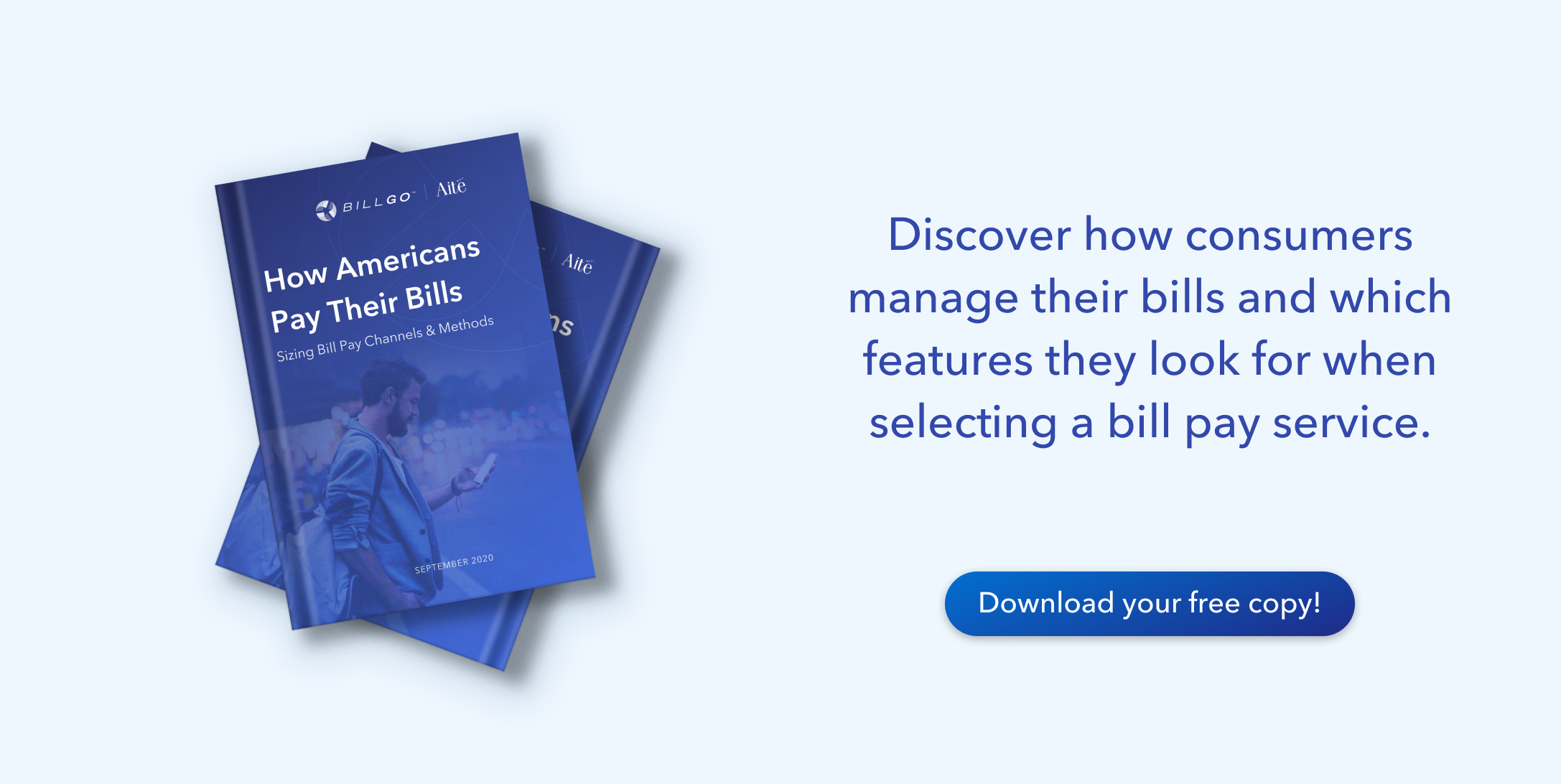 COVID Has Impacted Bill Payments
Without a doubt, COVID-19 has had an impact on people's ability to pay their bills. According to How Americans Pay Their Bills, 56% of consumers reported that loss of income or employment is making bill payment more difficult and 53% reported that paying bills is harder due to additional COVID-related expenses. Nevertheless, even with these financial pressures, a full half of all consumers said they would find a way to pay all their bills.
Not all bills, however, get the same priority. When asked which bills would be most likely to not be paid during financial hardship, consumers identified the following bills as the most vulnerable: charitable donations (39%), student loans (34%), cable/satellite TV & Internet (26%), parking tickets and court fees/fines (25%) and retail/department store credit cards (21%). The following types of bills were reported by consumers to be least at risk during financial hardship: utilities like water/sewer, gas/oil and electricity, mortgages or rent and vehicle registration.
The Great Digital Acceleration in Banking
As 2020 dawned, banks were focused broadly on digital transformation in an effort to meet customer's online and digital expectations – which have been informed by a decade of cutting-edge digital innovation with Big Tech companies like Apple, Google, Uber and Amazon that have made user experience an obsession. Consumers are now conditioned to expect nearly-instantaneous, frictionless interactions, but also transparent and convenient experiences with their financial institutions and billers.
With the declaration of COVID as a pandemic in March 2020, a wave of digital acceleration was triggered. Limited mobility and shelter-in-place rules forced rapid adoption of digital channels across many industries, including financial services. One in three customers have reported increasing their online banking usage (see Financial Brand, 27 Apr 2020) – a significant share of which came from Boomers and seniors who traditionally were slower to adopt digital channels. Consumers continued paying bills, but COVID exposed inefficiencies in bank bill pay and which bills got paid every month.
Banks are under increasing pressure – due to very low interest rates, drop in consumer spending and increased loan provisions, among other reasons – to operate more efficiently. Customer acquisition and retention are important since digital-first banks are attracting customers looking for a better customer experience.
Banks and financial institutions need to invest in modernizing not only their tech stack, but their customer experience as well. Consumers need bill pay solutions that address their needs:
Better customer experience
Efficient and safe transactions
Bill detail, notifications, and confirmations
Payment speed and payment options
Before COVID, digital transformation was a desire. It is now a necessity. Banks need to modify their business and operating models, to serve customers better, and to prepare their employees to work in completely new ways. Banking's digital transformation, especially in the area of bill payments, needs to happen faster than anyone could have predicted.
Want to Know More?

Check out this Infographic detailing How Americans Pay Their Bills.
‍