If 2020's health and economic upheavals have confirmed anything, it's that the need for a fully digital world has arrived. In the age of social distancing, "in-person" transactions are almost a luxury – nice-to-have, but not always needed or even possible.
This is certainly true in financial services and banking because nearly every banking function can now be done as well – if not better – using digital tools.
And, according to BillGO's recently commissioned 2020 Aite study, How Americans Pay Their Bills, consumers recognize this, which is why more than half of them pay their bills online.
The bad news for financial institutions (FIs) is three-out-of-four of consumers make their online payments directly to billers using biller websites – as opposed to paying their bills on centralized, more-secure FI platforms. That's a problem for FIs intent on building deeply rooted customer relationships.
So why do consumers opt to pay their bills directly to billers? The answer is even though most biller sites are cumbersome and force consumers to manage multiple logins, they still offer more choices than the typical FI site delivers. When a consumer pays a bill to the biller, they decide when they pay, which accounts are debited, and they also provide consumers with confirmations that FIs do not. As a result, only 22 percent of consumers use bank bill pay sites.
The good news? This represents a significant opportunity for FIs to win back their customers by offering them cutting-edge bill payment technology that meets their needs. We already know what consumers want because they shared their wish list with Aite Group as it researched How Americans Pay Their Bills.
When it comes to paying bills, consumers want:
The ability to consolidate and pay all their bills in a centralized place.
‍Real-time payments and confirmations that offer peace of mind. ‍
Choice. They pick which cards or accounts cover their bills.
Bill Payments Boosts Customer Retention and Acquisition
If FIs wish to regain and retain customers who have migrated away from the bill pay platforms they offer, it is imperative they deliver what consumers want - especially now when as consumers more options than ever to digitally manage their finances.
FIs spend millions of dollars on marketing in hopes of attracting consumers to their digital banking sites. Investing in a modern bill platform - one offering consolidation, real-time payments, and choice - is an easy deliverable to win over customers. And, since most consumers manage their bills monthly, providing them with a modern bill pay platform serves as one more digital touchpoint to solidify the customer relationship. It creates the opportunity to understand customers and offer them other products and services that would benefit them.
The upshot: Modern bill payments drives more frequent digital banking activity, generates valuable data, and fulfils a customer need.
A Modern Bill Pay System Checklist
FIs have a huge opportunity to redesign the digital bill pay experience so that it is more convenient, offers real-time payments and confirmations and provides customers with more choices in how they pay bills.
Next Steps
Want to find out how other FI executives built the business case for modern bill pay in their organizations?
Join David Hadesty, BillGO's Vice President of Business Development, as he hosts Demystifying the Bill Pay Business Case, an informational webinar designed exclusively for financial services industry executives.
Webinar panelists include:
● Zachary Wasserman, CFO, Huntington Bank
● Mark Sheehan, EVP & Director of Digital and Omnichannels, Huntington Natl. Bank
● Robert Bardusch, EVP & COO, Valley Bank
● Erica Pilon, Head of Product, DI Digital Banking, NCR
Together they will discuss:
● What compelled them to invest in a modern bill pay platform
● Key factors that secured their bill pay business case
● Lessons they learned while building the business case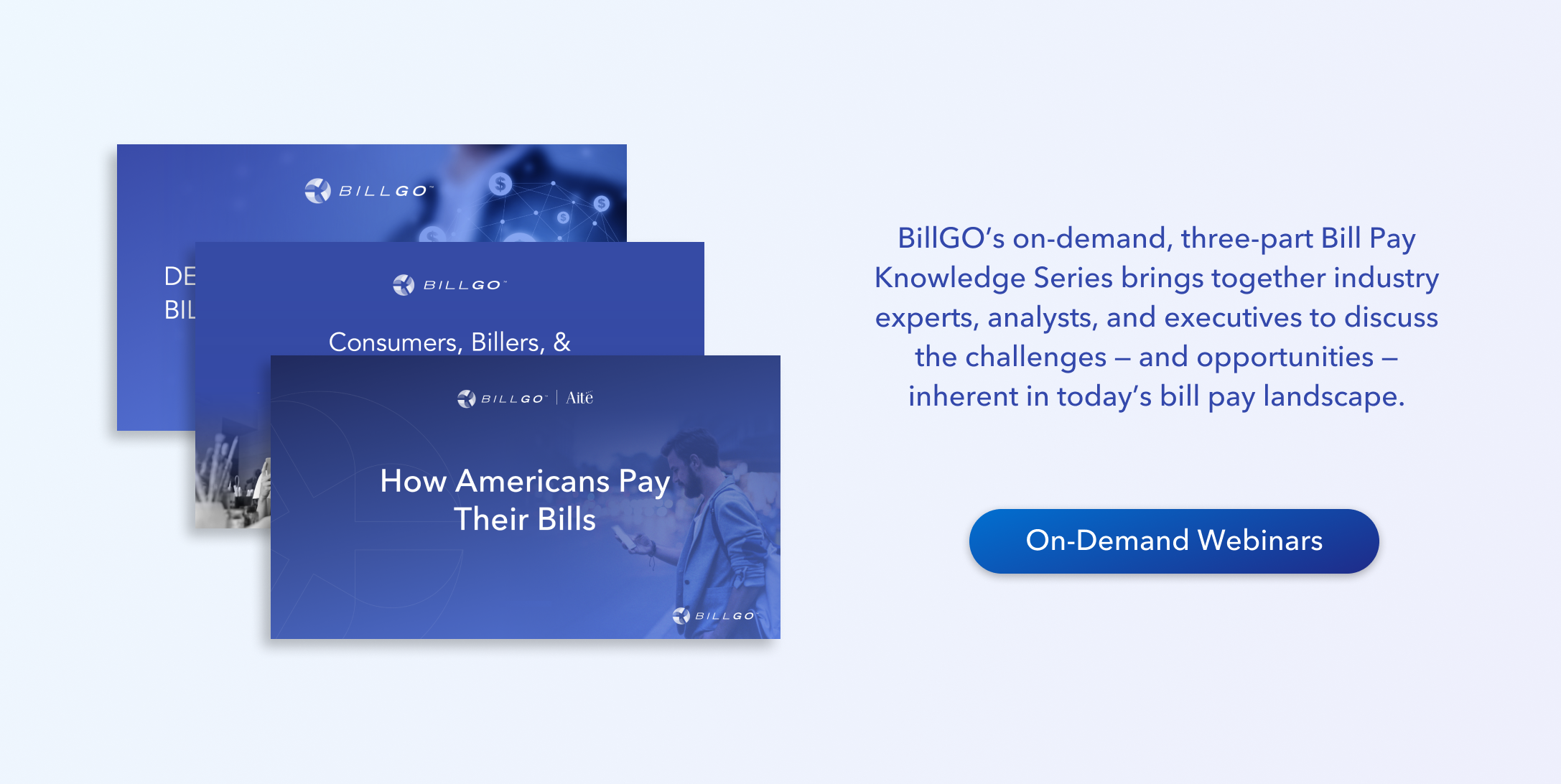 ‍