When it comes to hiring the best and brightest engineering talent, BillGO's hiring strategy is simple. "At the end of the day, we want to change how the industry views bill pay," says CTO Kelly Seidl, who cofounded the company after a successful run at Google Pay. "In order to do that we have to be an industry leader. So we're hiring the smartest people in the marketplace."
The data doesn't lie: While other fintechs have slowed down or even frozen recruitment efforts due to the current economic climate, BillGO has doubled-down on its dedication to building a world-class engineering team, growing the department by over 20 percent in 2020 alone.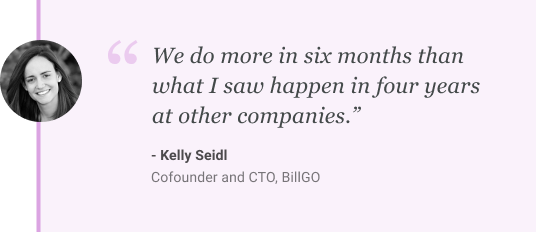 "Right now is a unique business opportunity for recruiting the next level of talent," Seidl explains. "Other businesses with more traditional business models might not be able to invest or are even downsizing. We've been fortunate enough to identify talent that's coming out of those companies and bring them into the BillGO group."
A perfect example? Pat McCabe, BillGO's new Director of Fraud Strategy, just joined the crew after more than 18 years at Fiserv CheckFree. "I chose BillGO because it gave me the opportunity to create again and be innovative in regards to fraud prevention," McCabe says. "This company has built a reputation as having an outstanding culture that promotes collaboration and transparency, and that was very attractive."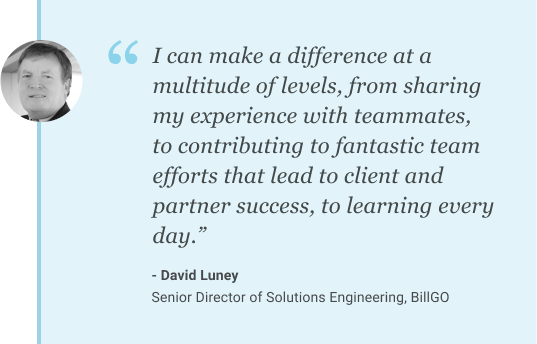 Matt Ozvat, another new member of the Engineering team, notes that the company's innovative spirit was also a big part of why he came onboard. "I've been in the Payments industry for 14 years," says Ozvat, who joins BillGO as Senior Vice President of Engineering after lengthy stints at Vantiv and Mercury Payment Systems. "What caught my attention is the company culture and its position to create disruption and growth in the fintech landscape."
A robust engineering team built from melded perspectives
But don't let the numbers fool you. Just because BillGO's hiring is on fire doesn't mean it's not on point.
"When it comes to top talent, in order for us to take the next step as a company, we have to surround ourselves with a blend of both people who have done it before and really smart people," Seidl says. "We want to walk that line between hiring people with tribal knowledge and people who are willing to look at a problem in a fresh and innovative way. The melding of those two perspectives allows us to do exactly what we want to do — innovate past what exists."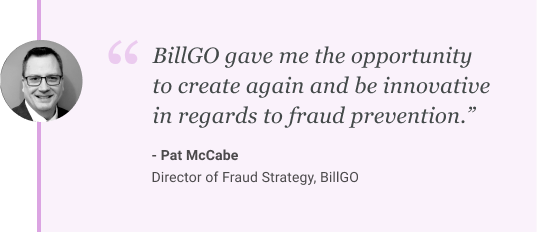 Opportunities to both mentor and move the bill payments needle are what make David Luney, BillGO's new Senior Director of Solutions Engineering, excited to come to work each day. "I can make a difference at a multitude of levels," says Luney, who came to BillGO with more than two decades at Fiserv CheckFree under his belt. "From sharing my experience with teammates, to contributing to fantastic team efforts that lead to client and partner success, to learning every day."
McCabe agrees. "The people and the mission make it exciting to log in and work every day," he says. Redefining what it means to pay bills and helping to secure how people pay online is invigorating."
Pushing the bill pay envelope on a daily basis
While members of BillGO's Engineering team include both seasoned fintech veterans and newly minted professionals, they all share one very important trait: a hunger for making an impact. "BillGO is a company that's always pushing the envelope," Seidl says. "If you're somebody who wants to see what you're capable of when it comes to your career, join the BillGO team."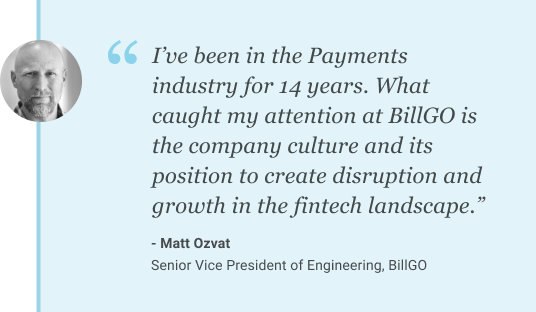 That's because the number of opportunities available to engineers at BillGO far surpasses anything on tap at more established companies. Seidl highlights that building out a team dedicated to data science and machine learning is high on the priority list, as is investing in fraud solutions and network teams. "The amount of growth — not just from a company success standpoint, but also as it relates to expanding our engineering platform, adding new capabilities, and enhancing our engineering software side of the house, is incredible," Seidl explains. "We do more in six months than what I saw happen in four years at other companies."
McCabe backs up Seidl's assessment. "I've been in the Payments industry for 20 years, and the things we are doing at BillGO will shake up this industry," he says. "I'm excited to be a part of the mission now."
BillGO continues to hire top talent across a variety of departments. To check out the latest opportunities, head over to our Careers page.
‍